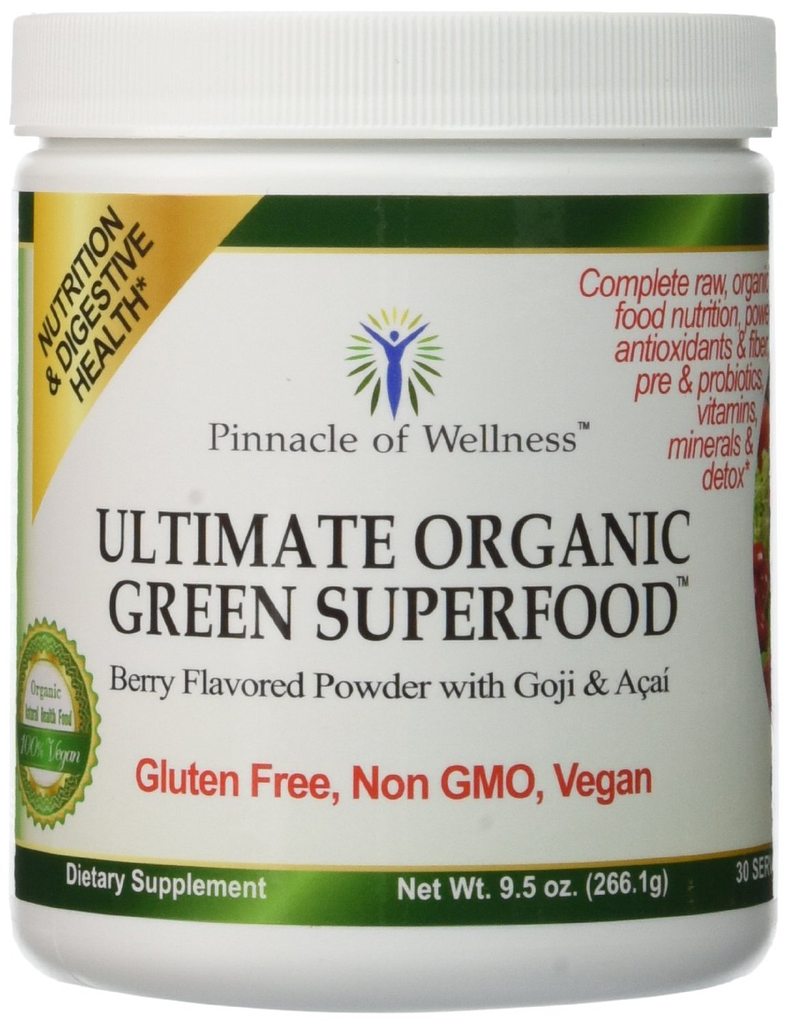 Pinnacle of Wellness ™
⭐⭐⭐⭐⭐ "I love the taste of it. I like that is organic and raw and I love the formulation of it." - Hristo Hristov. (I am a personal trainer and nutrition coach)
Sale price
$ 49.99
Regular price
$ 119.99
FREE SHIPPING!



DELICIOUS TASTING, QUICK & EASY! Blended to perfection, this powder is extremely quick & easy to mix with 8 or more ounces of water for a delicious tasting berry flavored drink all on its own or you can simply mix it with your favorite juice or smoothie!
COMPLETE VEGAN & GLUTEN FREE ORGANIC SUPERFOOD POWDER – This organic whole food nutritional supplement is jam packed full of nature's more potent, nourishing, and cleansing superfoods and all natural support herbs united with Goji and Acai berries to provide powerful whole food nutrition.
BOOST YOUR ENERGY & PROVIDE YOUR BODY WITH VITAL NUTRIENTS - Includes a powerful combination of alkalizing greens, antioxidant rich fruits, healthy digestive enzyme supporting prebiotics & probiotics and nutrient vitamins & essential minerals for immune system health.
FREE BONUS WITH YOUR ORDER! $27 Value - A "must read" SuperFoods for Super Health eBook - Two dozen foods that promote your overall good health are examined in this eBook. You may be surprised by some of the items that are good for you. You will receive an email one hour after your product ships with the eBook attached as a PDF document absolutely free.
Tastes Great
By  Tera R Brockway March 8, 2018
First, taste is really good! I've had some that I imagine this is what broccoli that crawled in a butt and died taste like. This product thankfully tastes more like a slight berry flavor and is refreshing g.
Second, I only got it just today so still not sure how well it works but I'm no newbie to green powders and they all seem to work pretty great.
Third, I've included a pic. I blended it in a nutribullet and as you can see it doesn't seem to dissolve entirely and I want you to know it's Whole Foods, not koolade and sugar. This is NORMAL. it's not gritty and yes you can feel it but it's super mild.
Overall compared to all the others (and I've had plenty) this is in my top two with nano greens and I'm pretty sure I paid less. I like the flavor of this one better than nano greens though. Yet to be decided if I like how I feel better. I'd very much recommend this to anyone.
PURCHASE WITH CONFIDENCE - 90-Day - Complete Satisfaction - Money-Back Guarantee. Our Mission is To Encourage People to Reach the Pinnacle of Wellness in Their Lives and Our Vision is to have People Experience Physical, Emotional and Spiritual Wellness. Welcome to the Pinnacle of Wellness Family.
Increased energy!
By  Debbie June 29, 2016
I'm on my 6th container. I felt increased energy immediately and I have stopped using other suppliments. 
I was having digestive issues which cleared up within a month. I mix it in a shaker every morning with water and a little apple cider vinegar. If you can eliminate other supplements I think the pricing is reasonable for the quality and benefits. 

Makes Drinking Your Greens--Easy!
By Sami February 9, 2016
A very easy way to eat your greens. 
I was an avid juicer back in the day, but got awfully tired of the cleaning and the constant running to the store to get fresh produce. Then I just could not stand the taste of the fresh greens and then my quest began in finding something I could easily mix--it took a while but this product really worked. 
Yes it is a bit pricey because I use more, hence it does not last as long...but when you think about it--you truly cannot put a price on your health.
---
Share this Product
---
More from this collection